The following is a guest post by Bethaney Davies as part of our Kindle Review Month here on Her Packing List.
I love reading when I'm travelling. It's a great way to pass the time during those moments of a journey that are inherently boring. Waiting in an airport lounge, riding on a bus with a sleeping child across your lap, laid out on a beach enjoying the sun. A quiet moment with a book can turn a boring day into a delightful escape from the mundane.
Books are damn heavy though. On a two-month trip around South East Asia I once took eight paperbacks. Now, the average paperback novel weighs in at around 12 oz (340 gms) so on my Asian adventure I was carting almost 6 lbs (2.7 kg) of Eat, Pray, Love and Karin Slaughter murder mysteries. That 6 lbs doesn't even include guidebooks – some of which could be used as doorstops. Any girl knows that even just a little extra weight can turn a manageable pack into nightmare. When you're on a long trip or short weekend away, luggage space is always at a premium.
This is where the Kindle comes in… and boy do I love my Kindle!
My Favourite Things About A Kindle Fire
Reading. Well, duh! Books are great. We've established that. Any Kindle allows you to have the books you want, when you want. No more waiting for shipping to far flung destinations. No more shipping costs. In fact, many Kindle books are significantly cheaper than regular books. If you're into classic literature, many of the greats are available for free. You can even get The Bible on Kindle.
Travel guides are fantastic on a Kindle. It really cuts down the weight of your day bag. The benefit of having a Fire when using a travel guide is the ability to click on links and maps. Like the look of the hostel recommended in Beijing Lonely Planet? Just click on the link and a window will open in the browser allowing you to check out the rooms and book online.
Access to apps is fantastic – whether you want to play Words with Friends with your Mom back home or look at hotel reviews on Trip Advisor. The benefit of the Fire over, say, an iPhone is the screen is a heck of a lot bigger and easier to read.
After my laptop screen smashed in the Christchurch Earthquake, I was without my computer for a year. I used my Fire for browsing the web, checking Gmail, Facebook, Twitter and watching YouTube clips (mostly Elmo… I have a two-year old!). About the only thing a Fire doesn't have is Skype.
Limitations of the Kindle Fire
As much as I love it, the Kindle Fire has some severe limitations.
The battery life on the Kindle Fire sucks. This thing haemorrhages power. Compared to a regular Kindle, which claims to stay charged for two months if you read for an hour or so a day, the Kindle Fire needs to be charged daily. If you used it for reading only I'm sure it would last longer… but that defeats the purpose of buying the Fire.
The Fire screen is a backlit LCD screen similar to a laptop or smartphone. Reading on a Fire is akin to reading on a computer. It can make your eyes tired and if you want to read to relax this is not ideal. A regular Kindle, with it's electronic paper background, doesn't suffer the same problems. Glare is another issue with the backlit screen. You can use a regular Kindle in bright lightening without a problem but a Fire doesn't perform nearly as well.
The Fire is thicker and heavier than a basic Kindle making it a little more difficult to hold in one hand. If you struggle with RSI and like to read lying down in bed, this could hold you back.
If you're not in or from the US you also run into a string of other problems. If your Amazon account isn't linked to a credit card with a US address you lose a lot of the functionality that the Fire offers.* (Simply changing the shipping address to a US location doesn't work. I've tried!) I can't even download any free apps to my Fire which is incredibly frustrating especially when I use them on my iPhone regularly. You're basically stuck with whatever apps come pre-loaded. I can't use the Amazon video service which is the only way to watch videos on (other than with YouTube in the browser).
Why I'd Rather Have a Kindle 3G
A Kindle 3G eliminates the need to find a WiFi hotspot. Once you have it, it's completely free – no contracts or SIM cards. Just free 3G. Worldwide. Perfect for the traveller.
There are so many opportunities where you might want to use your Kindle but don't have access to WiFi. On a sleeper train in Thailand, anywhere in New Zealand where free WiFi is virtually non-existant or when you don't want to pay for WiFi in a hotel.
Many of the hotels and guesthouses I've encountered have offered free WiFi but often this is limited to only one device. My laptop always gets priority which means my Kindle Fire lays dormant in my backpack for the duration of my stay.
So, should you get a Kindle?
I love my Kindle and wouldn't be without it. Travelling without a Kindle would be a sad state of affairs – not to mention the sore shoulders you'll have from all those books in your bag!
If you're travelling without a laptop a Kindle Fire is a good choice provided you can use it to download apps.
If you're travelling with a laptop I'd go for the Kindle 3G or even the basic Kindle if you're not concerned about always being online.
If you're travelling with an iPad you can download the Kindle App and you've got everything that a Kindle Fire has to offer.
>> Learn more about the Kindle Fire and the Kindle 3G on Amazon, or have a look at other Kindle user reviews right here on Her Packing List!
About the Author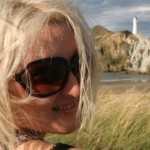 Bethaney Davies is one third of Flashpacker Family – a semi-nomadic, globetrotting family from Christchurch, New Zealand. They spend half the year at home and the rest out exploring and enjoying the world. Flashpacker Family has great tales from the road, tips on travelling on a budget & travelling with a toddler and information on living a location independent lifestyle. You can connect with Bethaney on Twitter and Facebook.
* This information is from my own personal experience having purchased a Kindle Fire while in the US and having an Amazon account with a New Zealand credit card. It might be different for people in different countries.
All photographs copyright Bethaney Davies – Flashpacker Family.