The last thing I want to worry about when I'm out on a big trip is lugging all my stuff around, keeping it safe and making sure it gets from point A to B. And when I'm on a trip that involves many different stops in a fairly short period of time, the task becomes even more gruelling.
That's why I tend to pack as little as possible. In fact, both my boyfriend and I pride ourselves on traveling to the far reaches of the globe with nothing more than a carry-on sized bag — and one that weighs in the realm of just 7kg (or 15.5 lbs) plus our extra personal item (which is usually a small bag with laptop and other small bits and bobs, but this does vary by trip and luggage choice).
When we set off to America for a month in May-June, we were both pretty excited with our pack jobs with Pat coming in at around 5.5kg and me coming in at around 7.5kg. I had to pack my laptop to keep up with work, unfortunately, while Pat was able to coast by with just his iPad Mini. However, this total weight included everything all in the one bag.
Since our bags were so tiny, no one asked us to weigh our luggage, but if anyone had mentioned my slight .5 kg overage, I would have just taken my laptop out as my personal extra.
We set off to America, the land of the cheap and plentiful, and well, we couldn't get enough – and that showed in how our luggage looked on the way home.
Yeah, not exactly the same, is it?!
We traveled extremely light until we got to my hometown, which is when we had downtime and not a whole lot extra to do besides go out to eat or shop. We did a lot of both, stocking up on clothing basics that would cost us triple down under, and just plain stocking up (our waistlines).
While this would have been fine had we been catching a flight straight back to Sydney from there, we actually still had Boston, NYC and San Francisco on our travel itinerary.
And that, my lovely HPL readers, is when I was reintroduced to the world of not traveling light.
It. Sucks.
Without making you wait any longer, here are 10 reasons why overpacking sucks.
1. You're weighed down physically, mentally and emotionally.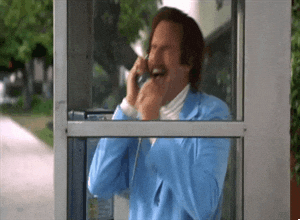 I'm not joking about that emotionally part. Not only does overpacking make your luggage heavier, it also does a number on the brain. You have to worry about more stuff, and that's not something that should be taking up energy when you're trying to explore a new destination. And, if you are constantly worried about your belongings, or you end up losing said belongings, that can ruin a day, week, or trip in general.
2. Carrying your luggage up several flights of stairs turns into a bootcamp-style workout.
Yep, it happened to me in San Francisco – the boutique hotel with no elevator and several flights of stairs. It was not pretty pulling my heavy suitcase up each and every step; I think I pulled a muscle, and I felt all nasty sweaty when it was over.
3. You feel like a jerk when your taxi driver struggles putting your luggage in the car.
4. You may have to pay an extra $50+ at check-in.
It's even more annoying if this happens when you just spent the last of your foreign currency on your shuttle to the airport. Keep it up and you'll have little money left in your piggy bank when you get back home.
5. You can't help yourself.
It's part of our female travel manifesto. We thoroughly believe you should pack only what you can carry because then you have full control over yourself and belongings when you travel. Needing others to help you pick up or move your luggage makes you vulnerable – especially in the fact that they can run off with it. By struggling to do it yourself, you're probably less aware of your surroundings and that can make you a target.
6. You take up extra space on public transport.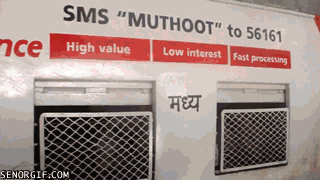 Three more people could have probably sat down, but you decided to bring 14 pairs of pants for a 14 day trip, making your suitcase the awkward passenger that everyone hates.
7. You lose balance because your backpack is too heavy.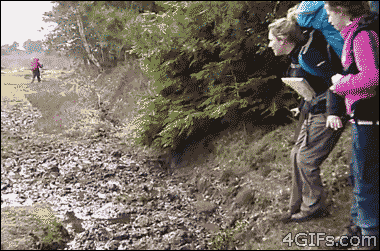 Need I say more?
8. You can't find what you really want/need to wear.
Oh yeah, that one outfit that should be perfect for the day/activity is busy hiding under a pile of useless clothing and… whatever else you managed to bring. Alternatively, you can't decide what to wear because you have too much choice!
9. Getting from the train station to your hostel just a few blocks away requires a cab.
Yeah, it's cool. We like wasting money on unnecessary things, too.
10. You get stuck waiting an hour at the baggage carousel, just to discover your bag didn't even make it at all!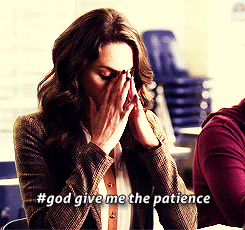 Meanwhile, those who went carry-on only breezed through the exit and were first in-line to the taxi stand… and are long gone.
CAN YOU RELATE? Share below!